World Week Activities & Materials
We have an educational DVD series and other activities in development.

---

Health
Water Walk: Walk two miles to collect a bucket of water. Choose a high-profile, two-mile return route to raise awareness in the community.

Water Rationing: Limit supply by closing off most water in the building, except during specific times. Cope with long lines, using less water, etc.

Fast: Fast for a day or two meals a day for a week.

One-Food Diet: Eat just one food (potatoes, rice, beans, or bread) for several days.

Gender Banquet: Give a status card to each person attending a banquet. Serve portions according to status and gender. All men as servers. They are not allowed to eat until everyone else eats. Give most people (and all males) small servings of rice. Serve elaborate, multi-course meals to a few high-status females.

Disease Simulation:Simulate the effects of disease or the impact of a handicap by using blindfolds, slings, crutches, etc. If handicap access is available, don't use it since few developing countries have facilities for the handicapped.

AIDS Orphans: In some regions AIDS is decimating the young adult population, resulting in unparalleled numbers of AIDS orphans. Many are taken in by grandparents or extended family members. It is not uncommon for one elderly couple to care for 16 or more orphaned children.

Have your family take in 10 or more friends and relatives for several days to simulate this situation. Cope on a typical supply of food, towels, etc. to learn what it is like to care for the equivalent of four families without additional resources.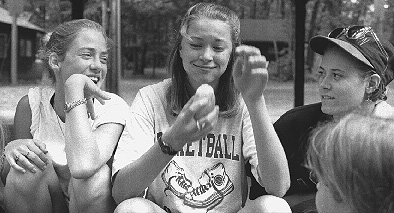 ---
Justice
Free Speech: Limit rights of some groups (blue eyes, brunettes) or forbid discussion of some common topics (music, sports, etc.). Fine people who express opinions about "forbidden" topics or restricted group members who are caught speaking out loud.

Women Know Best: Make male group members complete a mundane task, like writing out "Women know what's best for our community" 500 times. Give them enough work to make them miss half the class. Give a test at the program's end. Since the males missed much of the class, most will not perform as well as the females. Cite their low test scores as evidence that "Women know what's best for our community." Assign leadership roles based on the test scores.

Caste System: Assign a caste level based on hair color. Give more rights to higher castes. Make lower castes appeal through several levels of bureaucracy to perform everyday tasks, get a seat, etc.

Prison Wear: Design t-shirts and posters honoring people imprisoned for their faith, political beliefs, etc. Organize a petition or letter-writing drive pressing for the prisoner's release.

---
Peace
Candlelight Vigil: Hold a "candlelight" vigil for the victims of war. Light 10 candles, flashlights or lighters every three seconds, symbolizing the people who have been killed or injured in the wars since 1945.

---
Education
Literacy Code: Give some people in the class or group a code. Use the code in the class, school, etc. Write signs regarding events, locked doors, etc. in code. Only those who have the code will know what to do. Penalize anyone who doesn't understand the code.

This Is Democracy?: Use this "rigged" election to explore the relationship between literacy/education, human rights and democracy.

---
Environment
Disaster Dominoes: Have each participant prepare a domino illustrating one step leading to an environmental disaster. Assemble the dominoes in a public location and set off the domino effect.

Count By Trees: Many people in developing countries rely on trees for fuel. Determine how many trees it would take to provide the fuel for an average person in your group.

---

Resources
Photos, Video & Other Media: We can provide video, photos, and other resources for use in your web site, community-access television program. Call us at (253) 874-8400 or use this form to request help with your project.
More Activities: We have modified some of the World Week activities for younger children. There are other World Week activities and an eduacational DVD series in development. If you can contribute research for a new activity or help us update existing guides, please e-mail us and state your area of interest.

Leader's Guides: Free, easy-to-use leader's guides tell you how to run each of the World Week activities. Order your guides now.

Research Guides: Free, informative research guides give the background and statistics on the issues behind each World Week activity. Order your guides now.
World Week Press Release: Contact your local media to raise community awareness of your World Week activity by using our World Week press release as an example. Order your press release now.
Motivational Speakers: Compelling communicators with international experience address important social and environmental issues.

Exploring Contextual Teaching & Learning Series: Christopher Redner, World Week founder, produces the "Exploring Contextual Teaching & Learning" television and streaming media series.

Children In Need: This non-profit organization's reports examine issues that impact children worldwide.

---
( What Is It? ) ( How It Started ) ( When Is It? ) ( Activities ) ( Get Involved ) ( Photos )
---
© Copyright 1991-2019, Children In Need. All photos by Christopher Redner/Children In Need, unless otherwise noted. You may download and distribute text. If you wish to use the images or photographs, please call (253) 874-8400.